Hand-made Vegan Floggers
Conina, a top rated sex blogger, makes and sells her own vegan floggers.
Here's a link to her Etsy Store:   Best Floggers Ever
Paddles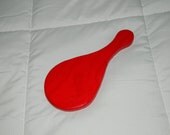 Blondie, a TTWD blogger has a paddle business-  her husband makes them and they have an Etsy store with all the cutest paddles you can imagine. Read her blog post here about Choosing the Perfect Paddle.  Here is the link to the Etsy Store.
Cute Spanking-Wear
Toys